The Trolle family originated from Småland and the ancestors can be traced back to at least the 1300s. Some genealogists claims that the line traces even futher back. The coat of arms of the Swedish family consists of a red headless troll on the shield and a red troll head as crest. The Swedish family actually died out in 1568. The family branch that had move to Skåne was introduced at Riddarhuset in 1689. There is also Trolle-Wachtmeister, a branch of the counts Wachtmeister af Johannishus, Trolle-Bonde, a branch of the counts Bonde af Björnö, and Trolle-Löwen, a branch of the baron family Löwen, where entail created the names and royal permission that the holder should use House Trolle coat of arms together with hes own coat of arms.
Count Nils Bielke got House Trolles coat of arms in one hes incredible many fields in hes coat of arms improvment when he was made ennobled from baron into count in in 1687.
The Trolle family living in Denmark uses a similar coat of arms with an identical crest. On the shield, however, is the difference that the troll has a troll head on his stomach. I do belive I know why the troll has a troll head on his stomach but I can not prove it so I keep it to myself. From what I have learned the swedish branch also had the troll head on his stomach for a short while before removing it thinking that the troll head as crest was enough.
Images by Eduardo Pazikas
Swedish Trolle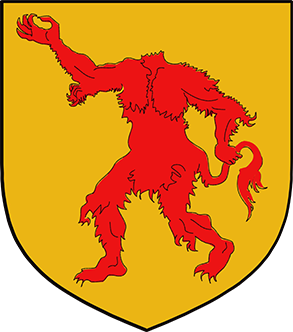 Danish Trolle