Introduction
My coat of arms was designed in 2004 by Ronny Andersen, who is the Royal Danish courts armspainter, and Jesper Wasling from Svenska Heraldiska Föreningen. My shields motive is based on my family name. Bragesjö translated into English would be Bragi-lake, or as one say in English - the lake of Bragi, a God in Norse mythology. The coat of arms symbolizes the transition from my grandfathers old family name Johansson.
The chalices was selected to represent Bragarfull (Bragi cup's) or "Bragebägare" in Swedish. Bragarfull are named after the skaldic God of poetry Bragi (Brage in Swedish) and are present in many Viking tales.
Oldest version of my coat of arms. Drawing by Ronny Andersen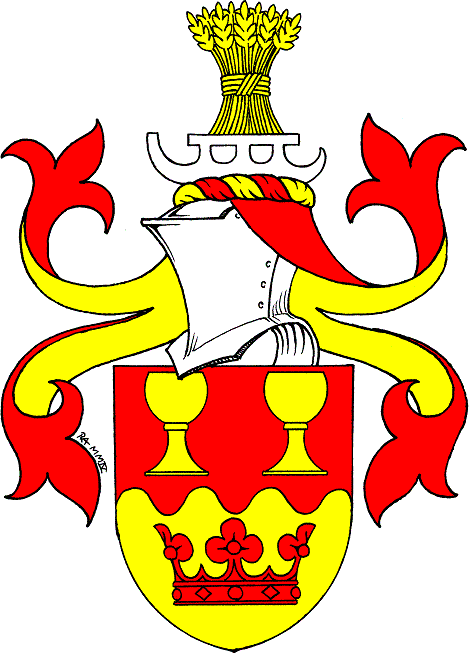 Swedish blazon
Sköld: Medelst en vågskura delat i rött, vari två kalkar av guld, och guld, vari en röd (öppen) krona.
Hjälmtäcke: Rött fodrat med guld.
Hjälmprydnad: En kärve av guld stående på en kälke av silver.
English blazon according to Jesper Wasling
Shield: Per fess wavy gules two cups or, and or a coronet gules.
Mantling: Gules, doubled or.
Crest: On a sleigh argent, a garb or.
I have no idea about German heraldry terms or how to translate or if it is correct.
Blason: Geteilt von Rot, darin zwei goldene Pokale und Gold, darin eine rote Krone. Auf rot-goldenem Wulst ein silberner Schlitten, darauf eine goldene Korngarbe. Helmdecken rot-golde.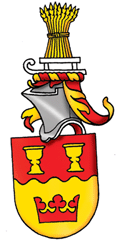 Additional publishings
My coat of arms has been published both in Vapenbilden and in Svenska Heraldiska Föreningens Matrikel. Several years after that in became on of the first registered coat of arms in Svenskt Vapenregister as SV 11.
After that in became registered in Skandinavisk Vapenrulla as SVR 709/2011. Some years later and my coat of arms became an article at Svenska Heraldiska Föreningens homepage.
My coat of arms has been drawed by many artists. Se the rest of my site. A special version also exist at at German Heraldik-Wiki. My family tree has also been in Vapenbilden and in the now closed Eskilstuna newspaper "Folket".
Reinterpration by Björn Fridén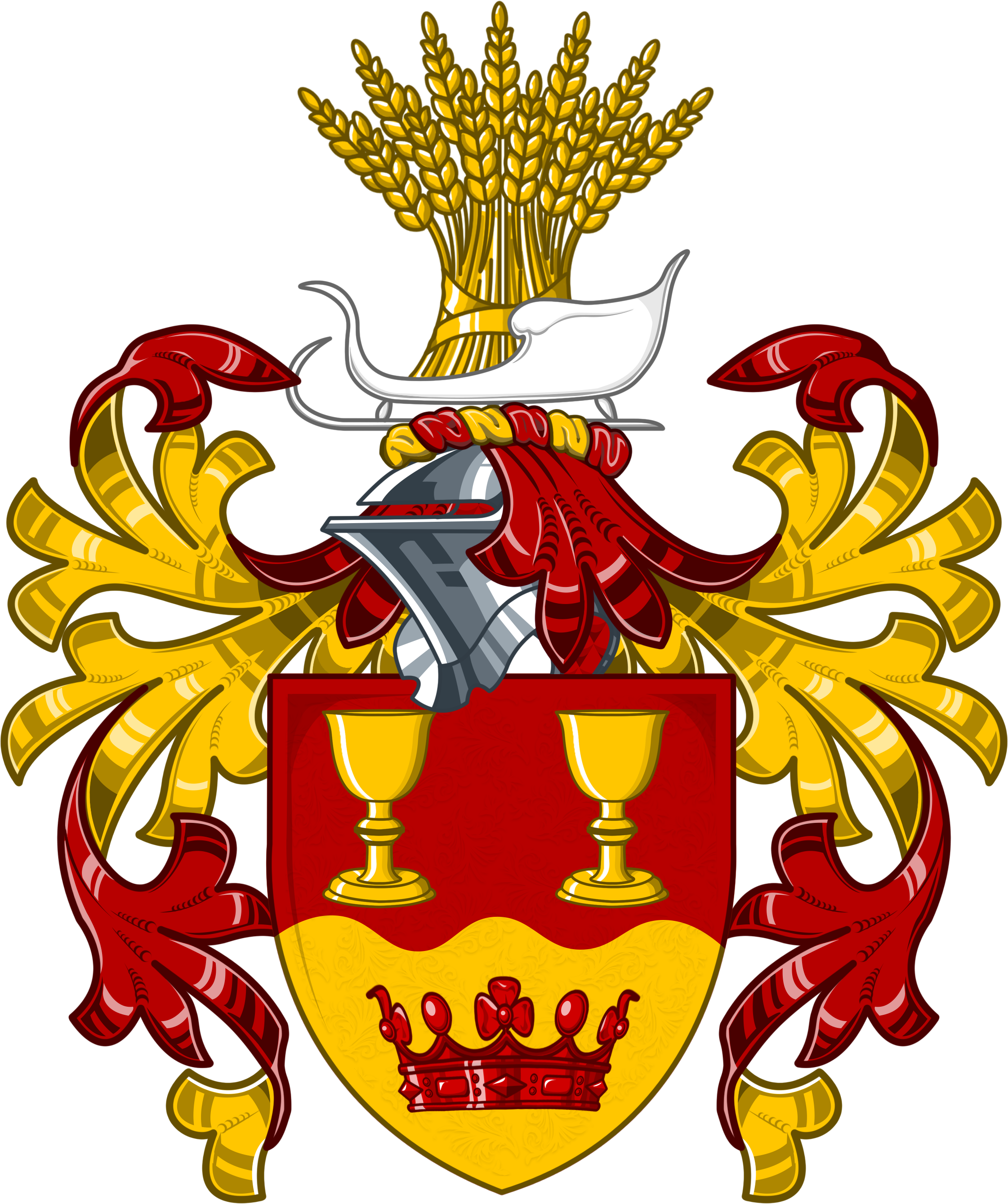 Inspiration from other coat of arms
My crest is inspired by the main theme of a shield of a coat of arms at my mothers side. I had previous bought a brooch and later got this plate of Ryssnäs-släktens (The Ryssnäs family) coat of arms as a present from my aunt.
Almost all existing coat of arms are inspired by other coat of arms. My shield is mostly inspired by Trollencronas coat of arms, that I think is a very cool coat of arms, but there are many differences so my shield is unique. To be unique there most be at least two differences.
First there is two Bragarfull instead of one Troll.
Then there is the wavy.
And at last a different type of coronet. Where Trollencrona use a kind of coronet of the type Saxon crown (krona med tre spetsar) I use a kind of basic coronet (öppen krona).
My shield has also other tinctures.
I had also seen other coat of arms with wavys like Coombs coat of arms that has also a wavy in the middle but it was not a primary inspiration and there are even more differences there since it is completly different objects of completly different categorys both at top of wavy and a lower part of wavy and there are also not even the same tinctures of any of the objects.
Blom coat of arms has also a wavy but it is not in the middle nor has any common items or look similar to my shield at all. We have same tinctures but reversed places.
A final shield that inspired me was Rehbander but the only thing in common is a coronet. We do not even have the same color at the coronet, or the coronet placed at same position at the shield. Rehbander has also jewelry at the coronet in the blazon.
I know that several other coat or arms has been inspired by my coat of arms where some are inspired by my shield and others by my crest but I will not list them here.
The tinctures are choosen to gold ("or" in heraldy terms) and red ("gules" in heraldry terms) since since my mothers farther was born in Skåne County (also know as Scania County) and I liked that tincture combination. My motto "Nothing is impossible" is inspired by the Swedish ski legend Gunde Svan.
Drawing by Thomas Falk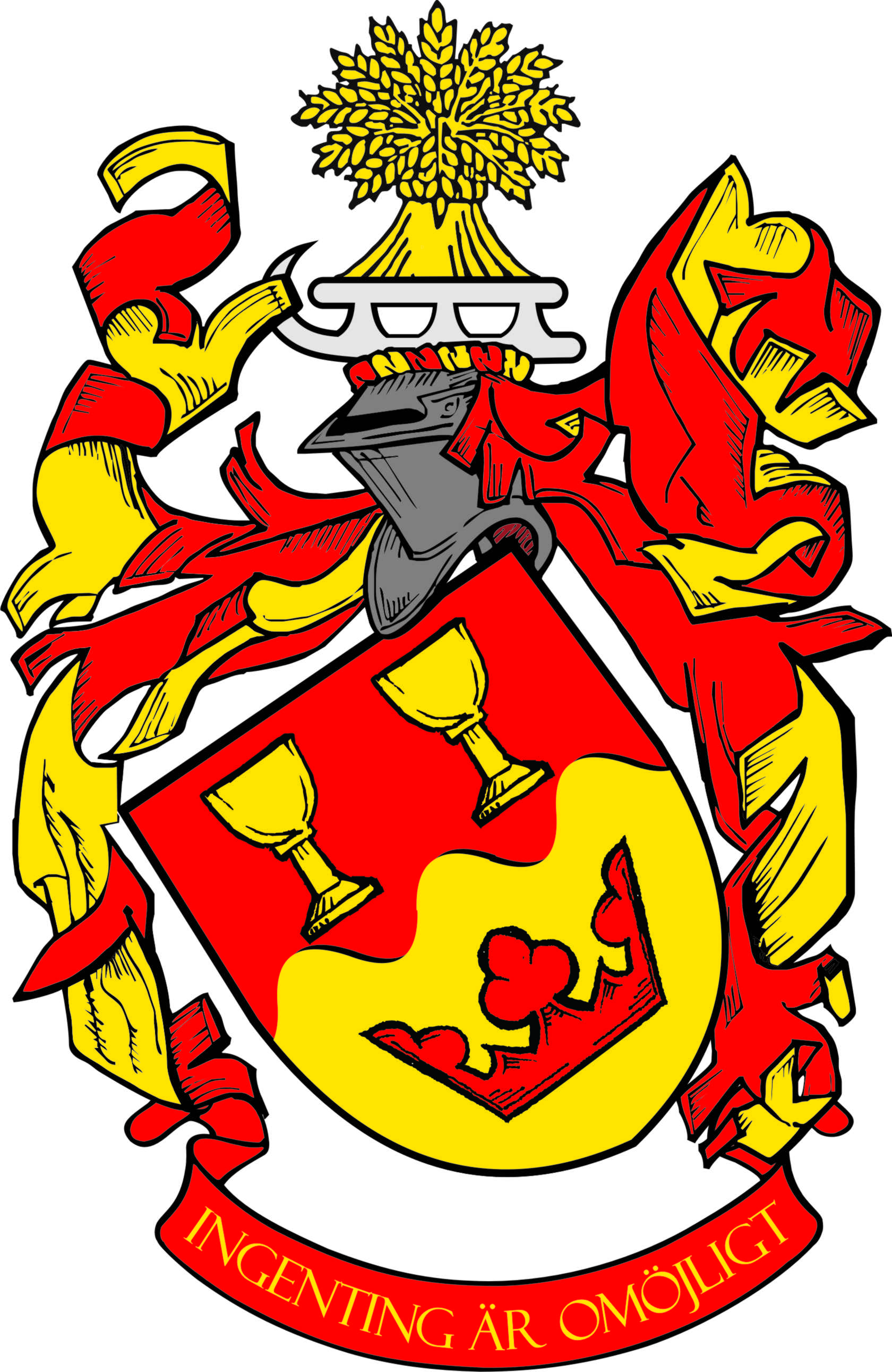 Original publishing
The image bellow is a scan from the magazine Vapenbilden 60.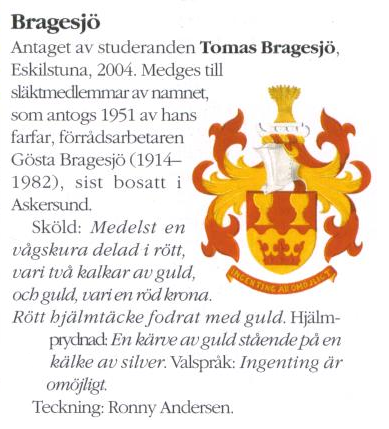 Family origin and succession
According to church books my grandfathers father was Johan Alfred Johansson who was baptised in Västergötland 1865 and much later moved to Eskilstuna sometimes after 1883 and latest 1897 when he married Hilda Kristina Anderssdotter. He died in Eskilstuna 1949. If one follows church books the oldest members on male lines are tracable to the farmer Nils who lived in "Vipetomten", Saleby, Västergötland in 1604. One of the oldest known members on the way was dragoon and farmer at Vipetomten that somehow got the surname Sandin but that surname was never passed to hes children.
The surname Bragesjö was invented by my grandfather Gustaf (Gösta) Oskar (Johansson) Bragesjö in 1951 and taken up by him, hes wife and their children. Several years later my grandfather and my grandmother divorced and he moved to Askersund and got remarried. My grandmother never remarried and several years after that my grandfather had died she changed her surname to her maiden name Hammarberg.
For more info about genologi, family legends and family traditions, and my personal coat of arms succession, see my family tree.
Drawing by Davor Zovko